TLDR:
According to IPSC, this is now a compensator:
This is a pistol with a compensator, so illegal in Standard Division (~Limited):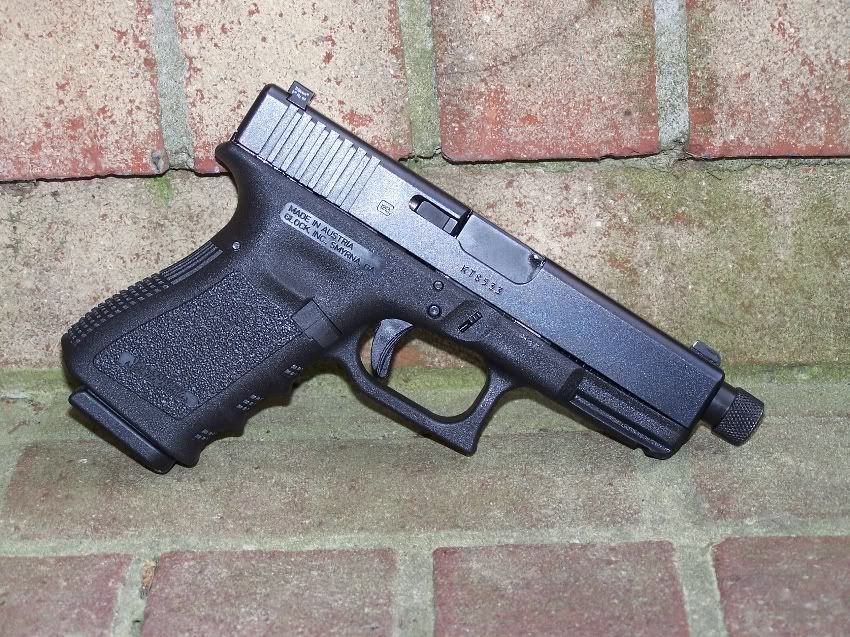 This is OK for Standard:
This is not:
Or maybe it is, but this definitely has a compensator, we are sure about the atomic numbers on this one:
Bottom line, if it has an unported Shuemann Hybrid rib barrel, SVI Sight Tracker rib barrel, STI Apeiro island barrel, it doesn't have a compensator because the naughty bit is not "attached" to the muzzle, but machined at the same time from the same piece as the barrel. But if you attach any weight to the end of a threaded barrel, even a sight base such as in a CZ 75 TS Czechmate Standard config, HPS Limited XS, Limcat Wildcat Perfect Sight, or any similar custom configuration, you are ***ked.
Some key quotes from the Village of Idiots.
Hi folks,

I think most of you will be delighted to know that I found enough duct tape to prevent the sky from falling over this issue. After considerable deliberation, the greatest minds in IPSC (and me!), would like you to know:

1. Tungsten sleeves will not be treated as compensators, provided the sleeve extends to cover at least half of the barrel. However, if it is just a lump at the muzzle end of the barrel, you will be warmly welcomed to Open Division, with a Coke and a smile;

2. On a related note, if you have a weight attached to the muzzle end of your barrel, that will also be treated as a compensator even if it doesn't contain holes. This also applies to guns where the barrel and/or slide has been shortened and heavier metals have been attached to the business end in order to restore the length.

I hope this clarifies because I'm really running low on my medication ......
Rules referenced are Appendix D2.13, 16:
13. Compensators, ports, sound and/or flash suppressors – No, see below
16. Only porting of barrels is prohibited. Slides may be ported.
and
12.5 Glossary definition of a compensator:
Compensator…………....... A device fitted to the muzzle end of a barrel to counter muzzle rise (usually by diverting
away escaping gasses).
(The USPSA glossary definition is identical and Appendix D2 is identical in that it states in table row 15 "Compensators permitted – No".)
Vince,

Could you please clarify what is meant by "heavier metals"? Thanks.
According to the IPSC Scientists at MIT, CERN and Area 51: "anything with an atomic number higher than 26".


(iron has a Z=26, copper Z=29, molybdenum Z=42 and tungsten Z=74)
In that case, it's weight moved / added to the muzzle end of the barrel, and therefore it's a compensator ....
Thanks Vince,

I suppose thread protectors as they are made from steel are considered compensators then.
Yes.
If people would take 5 minutes, just 5 bloody minutes, to actually read my posts in this thread before circling the wagons and beating me up, they would see that all I have done is ask a series of questions about a handgun which is unfamiliar to me. They will also note my questions focused on whether or not the rib above the barrel was "fitted".

However, at no point in this thread did I declare the "Sight Tracker" to be illegal for Standard Division, yet the Sky Is Falling. Again.

Anyway, based on the information provided herein and from external sources, it's now clear that the subject rib is not "fitted", but is instead of a unitary construction, therefore the Glossary definition of compensator does not apply.

Bottom line: the "Sight Tracker" is legal for Standard Division.